Report # 63033 (Class A)
Submitted by witness Douglas Hickernell on Friday, June 28, 2019.
1AM sighting of a Bigfoot on Hwy 199 near Patrick Creek
YEAR: 2006
SEASON: Winter
MONTH: March
STATE: California
COUNTY: Del Norte County
LOCATION DETAILS: Oregon side of Patricks Creek Lodge on the 199 SW of the tunnel
[3.3 crow miles NE of the lodge]
[41°53'39N 123°46'58W]
NEAREST TOWN: Obrien, OR but just NE of Patrick's Creek
NEAREST ROAD: 199
OBSERVED: New to the area in July 2005, I had been traveling from Crescent City, CA over the Pass (Hwy 199) weekly to Grants Pass and back and now in the Winter of 2006, it was 2X weekly. My wife had not joined me and we were separated and I was attending counseling classes in Medford, OR.
We had 5 children and I had my son living with me and he was back at home. He was about 13.
This particular night I was delayed on my return from Medford in the evening (usually arriving back in Crescent City around 1215 AM). It is roughly an hour from the Tunnel to arrive in either Crescent City or Brookings, OR where I live now.
I had stopped @ the Bug Station and rested (because I was delayed in my return) sitting with the heater on and engine idling and doors locked. The little phone booth shack for Inspections there now, was not there yet. After closing my eyes about 40 minutes, I'm guessing like 1225 AM, I was rested and awake to get going again back to Crescent City.
I use my High Beams because it is so dark through there and everyone does because it is like signaling any opposing traffic of your whereabouts (everyone is usually polite to lower them upon the distance closing).
I left the Tunnel and traveled down the hill and began the series of 'S' turns through the Pass (it's like a Canyon and runs adjacent to various sections of the Smith River).
I was slowing through the 2nd 'S' turn and was watching my headlights and the shadows of the Roadside barriers as they were casting the shadows in the trees along the river.
My truck was an older Chevy Dually with a small diesel and it was not a Powerhouse like the newer ones. I was just cruising with the turns and taking my time. It had a shell with an 8 foot bed and it was used by a retired couple to tow their trailer so it is kind of slow.
The lights are low to the ground and when the high beams are on the go out further and up higher. You can be seen by anyone else and they can see you from a ways off.
As I rounded the turn and was approaching the end of the turn while watching my high beam shadows of the barricade up in the trees, I noticed this BIG Dark Shadow cast in the trees from my lights as I rolled along and my lights lit up a Giant Creature walking along the opposite side, going against traffic- facing away from me. I said to myself, "Oh shit!" and was very excited. The next part of the turn was coming up right away and I immediately thought to turn around to see it's face. I knew it was Bigfoot (Sasquatch) and wanted to see his face but, I was too close still to maneuver around and go the other way and the turn was too shallow. A thousand things went through my mind, "what does he look like, don't turn around yet, what if he's hostile, he'll beat up my truck, don't turn around here…."
The logging trucks fly through there and my slow diesel would have to do a 3 point turn around or more and possibly get T-boned. I was excited but, also a bit scared. This was amazing.
I kept telling myself "Not yet. Don't turn around here." I kept looking for spots along the rode to turn around , even a little room, because I really wanted to see it's face. The mix of it being late, a tight turning canyon, being afraid and also excited – I was bewildered a little…, "What do I do?"
Almost immediately it was now the small FAST 'S' turns (very narrow) that lead to the Narrow passage (it is extremely tight through there and you can see the Tree hanging off the cliff above the roadway in the daytime…, and, this leads to the Resort @ Patricks Creek Lodge).
As I passed I was still shaken up and thought what do you do, no one will believe me. As I passed Little Jones Creek I decided to forget about turning around because 1. I had really seen it 2. It was late and no one would believe me anyhow (I did not have a regular cell phone- it was a cheap Android and off due to no reception- a real long Start-up time when turned on).
So, here's what I saw and why I am documenting it.
It was over 8′ Tall…, I am 6'2″ and played Basketball since 4th grade even against 7′ players in high school (I was a Leaper and could jump really high- I was 6′ when I was 12- stopping my growth @ 15 years old @ 6'2″). I could not accurately guess the weight but well over 4-500 pounds- possibly 600, 700 or even 800.
He had no neck with a Pointed-type head buried between his MASSIVE shoulders…, Huge Shoulders. I was going slow enough through the turn to see his fingers, toes and palms and foot bottoms as he walked but his hair was like a Llama- matted looking but long and, longer and shorter on different parts of his body. He was Light Grey to Smokey Charcoal Grey with some Black deeper in beneath his hair closer to his body.
The hair was long on his calves, forearms, hands and feet so I just saw tips of long fingers. His feet bottoms were flipping TOUGH (I'll spell it TUFF) because they were Wide and what I would describe as Padded. He walked swinging his harms down near his knees but above them and up right, not hunched over like an ape…, he was walking but just massive- those Shoulders. I saw him a good 3 – 4 seconds.
His Torso was Longer in proportion to his legs, his leg length of Thigh to Calves was not as long as his upper body- he was Huge.
I went to work the next day and told a co-worker who had lived up here for over 20 years and an avid hunter and fisherman and he is also part Cherokee so , I know I could trust him. He has spent countless hours Elk hunting, and bear hunting. He looked at me kind of silly and sluffed it off so I just shut up…, "You've only been up here about 8 months and you've already seen Bigfoot?"
I know what I saw.
After learning more and now hearing the term Gigantopithecus I looked it up and the Tropical is the one I saw. Turn the animal around and that is exactly what was 'walking' down the roadway.
Here's a link to the picture that convinced me to tell my experience: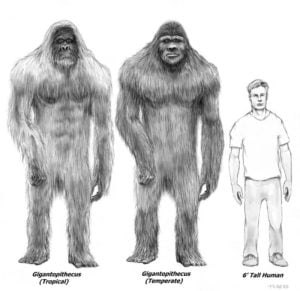 I'm going to start looking for him soon. If they are active @ night then I'm getting Thermal and Night Vision and want to try and get a video of him.
OTHER WITNESSES: Alone
OTHER STORIES: Yes…
TIME AND CONDITIONS: Very Dark Hwy 199 close to 1230 AM 1250 AM
ENVIRONMENT: Canyon Pass, Trees, Granite Cliffs, Wooded, Riverbank
Follow-up investigation report by BFRO Investigator Matthew Moneymaker:
The sighting occurred at approximately 1AM on Hwy 199 roughly four miles past (if driving north) the turnoff for Patrick Creek Lodge.
At this point along the highway it roughly follows the gorge of the Smith River. It is very possible that the Bigfoot was actually walking along the dark highway to save time and effort. It didn't get off the road before being spotted by the motorist.
At this time of night there are typically very few vehicles on the highway. Vehicles can usually be heard coming from quite a distance so it's possible to stay out of view most of the time if you're walking along the highway.
I asked the witness to send me written responses to questions regarding how far away he was when he saw the Bigfoot. How far was he when he first saw it, and how far at the closest point. Here is his response to those questions:
"The first sight I had I was about my guess 80 yards…, he was on the opposite side of the road heading against the traffic lane going in my direction. I saw what I described in the report, I watched him…, about 3, 4 strides, arms swinging…, as I drove about maybe 20 mph right next to him. I passed him at the closest I was was maybe 12 feet. He never turned toward me, took notice or avoided me, like a lion on the Sahara, no care in the world, he was not startled or concerned.
He was on the roadway and kept walking as I passed him. His arms as I stated, looked long and lean, like a basketball player but, in reality were as Thick as my Thigh. As I reflect, he had to be 800+ lbs and over 9′ tall…, easy…, almost up to the Top of the Diamond shaped Roadway signs.
My truck had alot of lights on it so, I know he saw me. Immediately after passing him, I thought "Turn around!, Turn around!!" because I wanted to see his face and get a frontal view but, the 'S' turn was so close to him still and narrow, I started talking myself out of it right away…. it was a bit too much despite the amazement.
I wish now, I had not continued so far and then I determined to turn around about Little Jones Creek…, there I felt safe enough but, still talked myself out of turning around.
I was still relatively new to the area and was not familiar with the Bar-O Ranch pretty close.
I've traveled this many times now and am certain of the coordinates. [41.893958 -123.782815] Just past Idlewild and the Oregon side of the Ranch….
Thank you again for the site, your assistance and your own knowledge and experiences which have made this known.
Douglas Hickernell